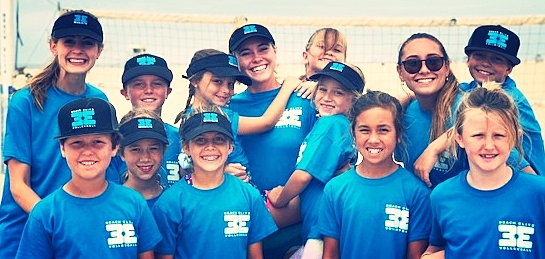 BEACH ELITE was founded in 2014 to create the all around volleyball athlete!
BEACH ELITE COACHING PHILOSOPHY
We teach the keys to success and happiness in life, through volleyball. Our three pillars of success are: Learn, Work Hard, Have Fun! While we constantly strive to and successfully build top-tier and award winning athletes, we also look beyond the scoreboard and constantly ask the question, "What kind of adult will this young player become?" We want Beach Elite players to be very valuable assets in their families, schools, social groups and communities. Not only do we teach our players to be competitive athletes, we also teach our players to have gratitude, serve each other and give back to the community. See what others are saying about us HERE!
We view our practices like a laboratory. Our players are the scientists. They enter our laboratory to experiment with techniques, skills, and partnerships to make the perfect winning formula. We as coaches provide and teach them about the chemicals ( skills, techniques and strategies) and at times have a hands off style to where we let the kids make their own creations.
COACHING STAFF
ADMINISTRATIVE STAFF
We want our players to feel vulnerable and ok with making mistakes. But we want our players to do what we tell them because that's the only way to break a bad habit or make a good habit. We want our players to be willing to do what the coaches are telling them to do even if it's not a great outcome while learning the new skill. If our players do everything right with a skill and the outcome is bad they are still praised for it. If they do everything wrong and the outcome is good they are not praised for it.
MISSION STATEMENT
Making better kids first. Making better players second. We do this by offering the following:
-Beach Elite Scholarship Fund (Money set aside to provide underprivileged youth to participate in youth volleyball)

-Professional and a positive administration and coaching staff
-A positive learning environment for young athletes to learn and grow to be all around athletes
-A proven training program developed by pro athletes and coaches.

SERVICE
We are always active in helping our community. With quarterly service projects, our athletes build a character of gratitude, bond as a team, and help those in need. At Christmas we are active in our "B.E. A LIGHT" campaign with weekly service projects. Past projects Beach Elite has participated in are: building hike trails, painting fences, cooking and serving Thanksgiving dinner to the homeless, Toy Drives, and many more.
INDOOR
In 2017 we added indoor to our program. We've brought the same ingredients that have made us successful on the beach and simply added shoes! We have DEVELOPMENTAL TEAMS as well as ELITE TEAMS.
CLICK HERE for more information